Hey party people!
Those were the words I heard from my husband a few weeks ago. Coming from my laid-back, easy-going husband, those are NOT words I like to hear. Mike was downstairs in the man-cave/music room/workout area/self-taping (for on-camera auditions) room and asked if I spilled anything on the carpet. Nope. He then realized the wetness he was feeling covered about a quarter of the room. Our carpet was soaked. Bad.
We started frantically moving all of the furniture near the little flood out of the way. Mike tried pulling up the carpet. It was soaked and weighed a ton. Where in the world is this coming from? We were both wondering. Through a little detective work, we figured out that if you turned on the kitchen sink, the flood waters ran down. Great. That means we've got to call the plumber.
No offense to plumbers, but our friends across the street had some recent plumbing issues that ended up costing them a fortune! We were not excited about a visit from them, especially because we're both self-employed. That comes with a lot of great things – flexibility, doing what we love, seeing each other more, etc. Stability, that's not one of the great things. We have no idea what our financial state will be in from month to month. It all depends on whether we book or not. We try to save and plan, but things like this throw us off a bit.
The plumber came and it wasn't fun news.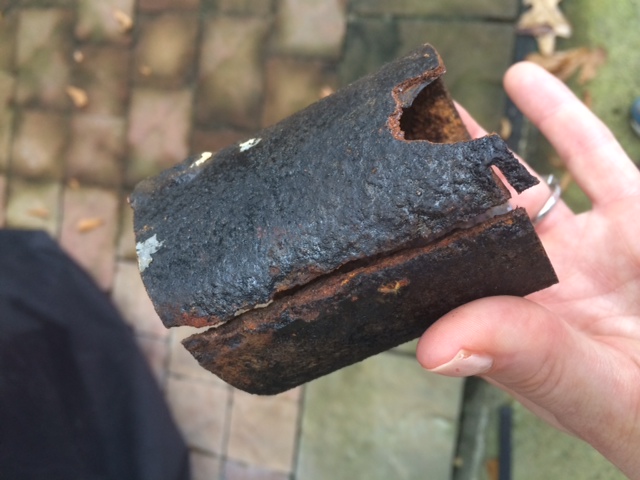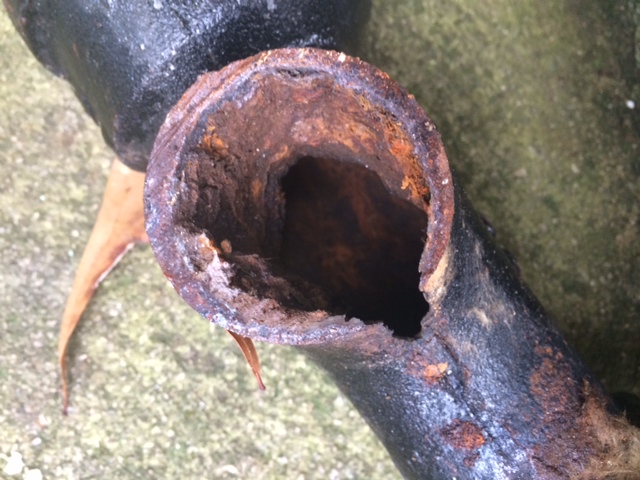 That was the source of our little flood. Our home was built in the 60s. We've done a lot to the house since we moved in, but one thing that was still original to the home were the pipes from the kitchen to the basement. Guess 50 years + is their life span. There was a long crack down the pipe and a couple of nickel-sized holes. Yikes.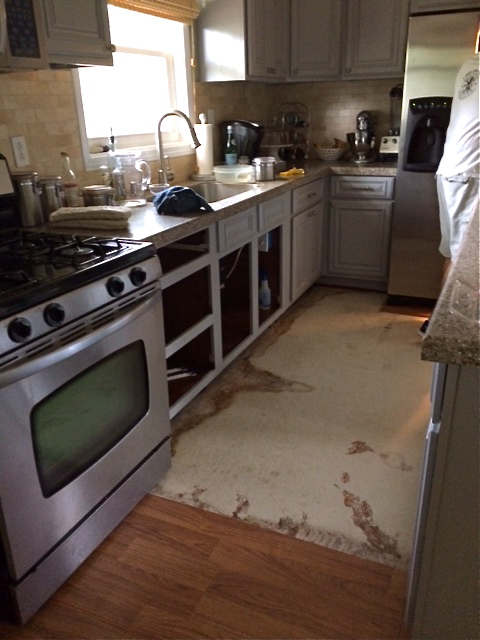 But…wait. There's more bad news. Since the pipes had been slowly leaking for awhile, we had some lovely mold growing underneath our kitchen flooring and behind our drywall in the basement. We went through extensive testing before we moved in to ensure our home was mold-free, so this was not fun news. Mike & I have both lived in homes with mold. He spent thousands of dollars getting rid of it in a previous home and I dealt with it in a home I was renting.
Oh yeah…and water was puddling underneath our kitchen flooring.
Where do we go from here? That's what we were pondering.
First, the plumber cut out the back of our kitchen cabinets and our downstairs drywall to replace the piping.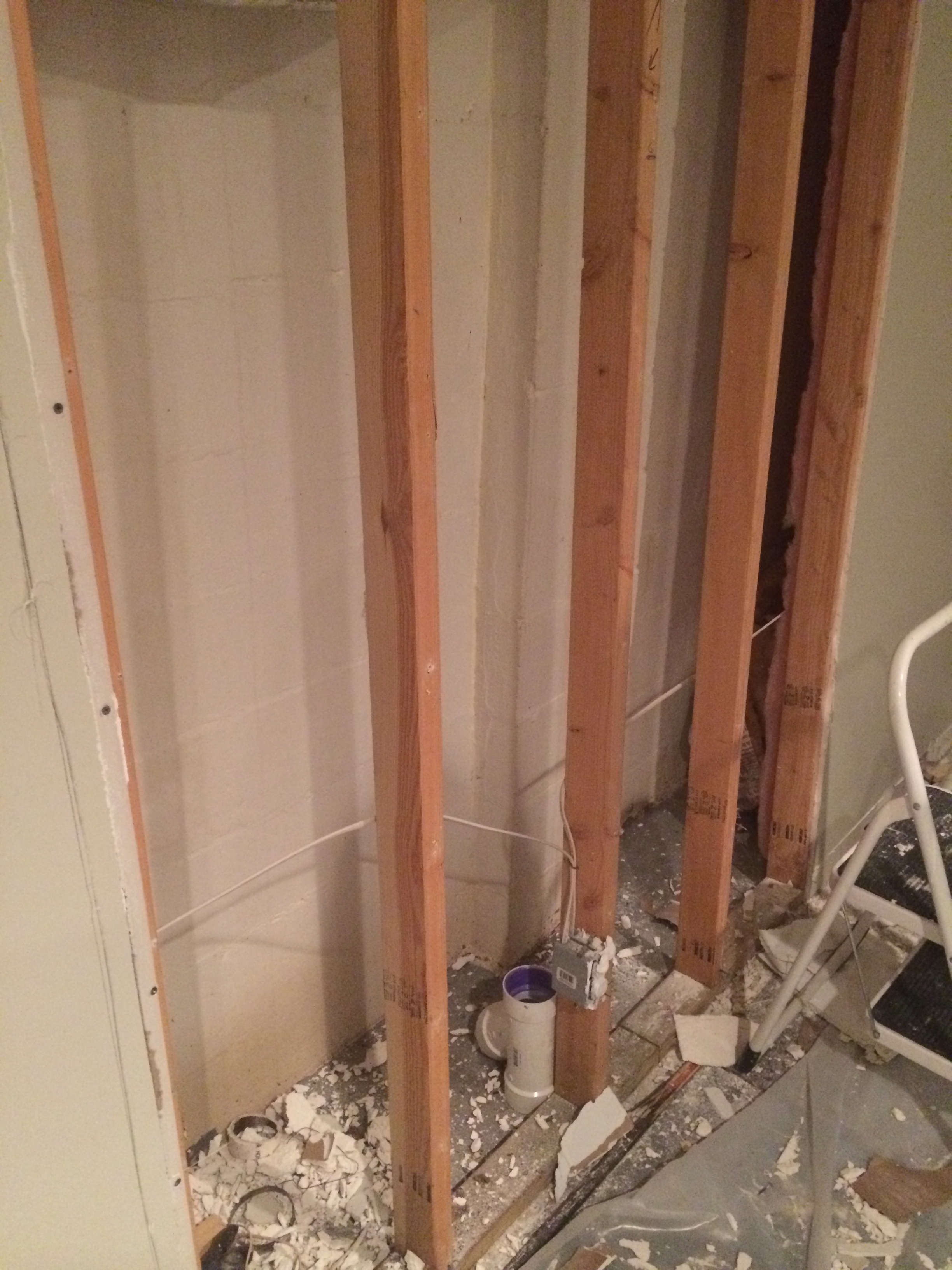 Then the mold remediation team came and quarantined our downstairs and kitchen for 5 days treating all the areas.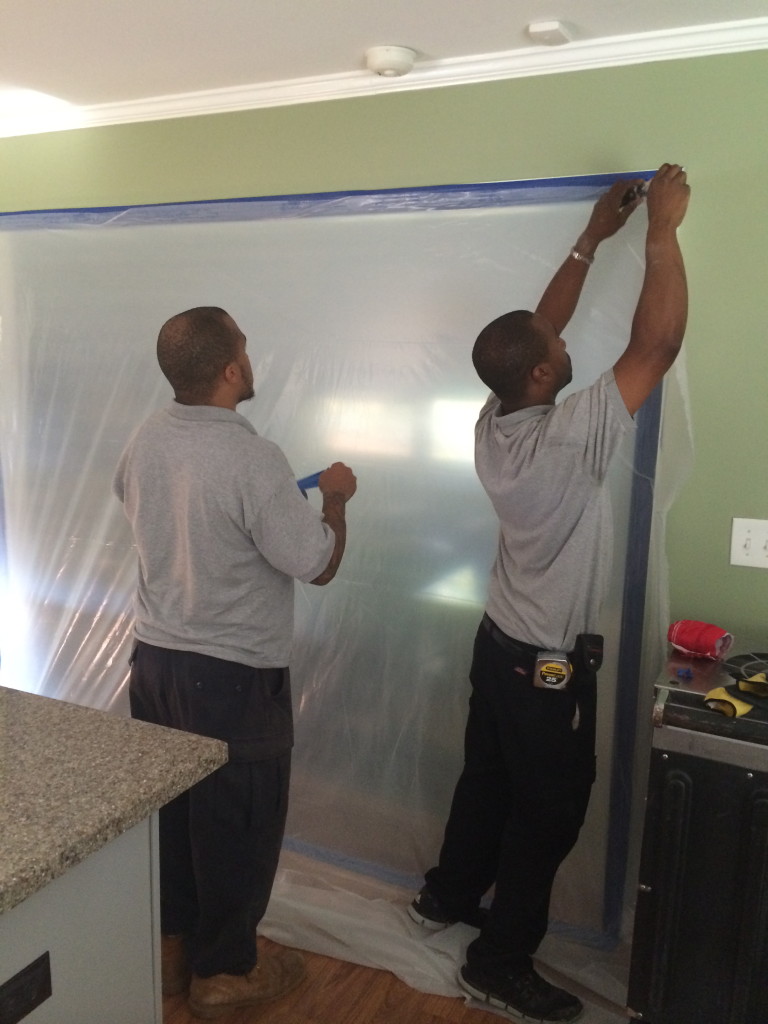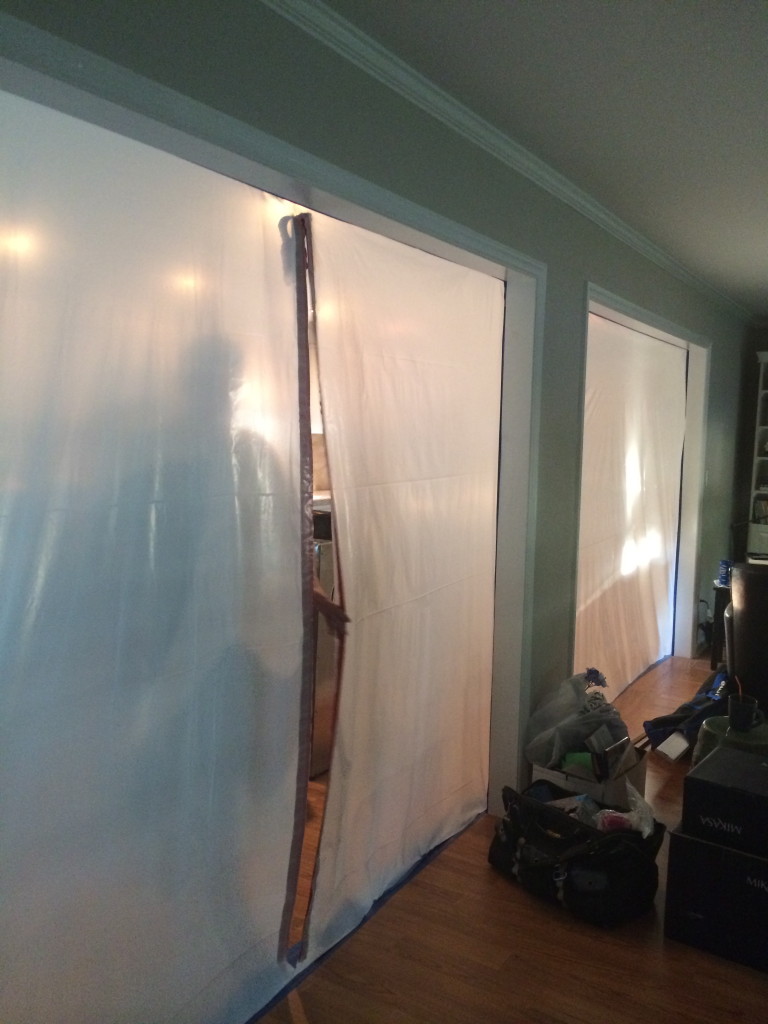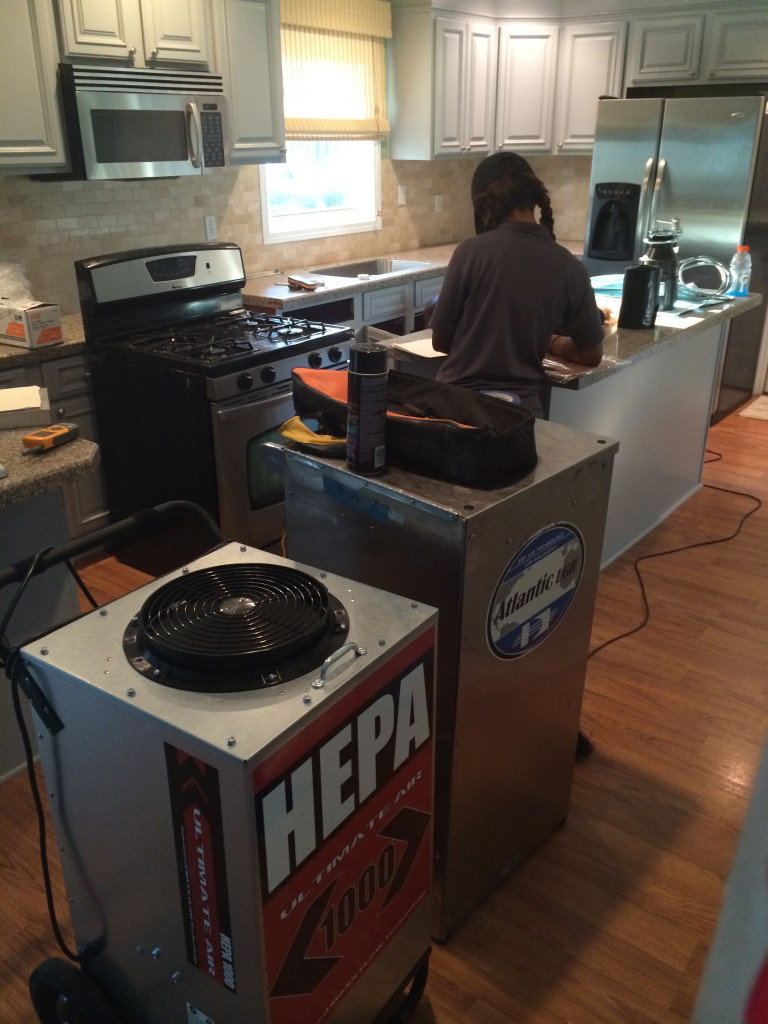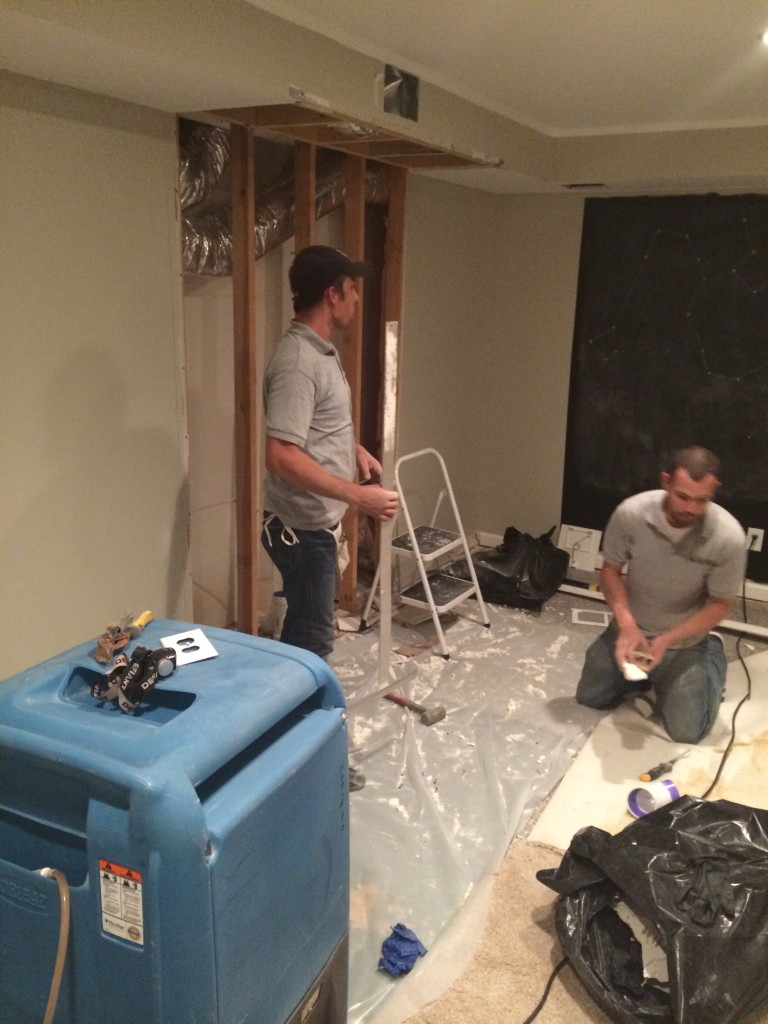 It was a little crazy. The equipment they used caused the whole room to heat up to 95 degrees! I had a dinner party planned for that Friday and thought it'd be done by then. Nope. I prepared for the dinner party in the 95 degree kitchen and Mike took all the plastic dividers down 45 minutes before everyone arrived. #firstworldproblems #theentertainingmustgoon
After all that was done, we were left with kitchen cabinets, flooring, and dry wall ripped out.
We called our contractor to replace the back of our kitchen cabinets and the drywall.
Now we needed to figure out flooring. Because of the damage, our entire first floor and basement flooring need to be replaced. We'd considered replacing the flooring before, but these circumstances weren't exactly ideal. After talking it over, Mike and I are excited to get started updating the upstairs and completely re-doing the downstairs.
I have worked with Mohawk Flooring in the past, knew they had awesome products, and decided to pay a visit to Builder's Floor Covering (a local Mohawk Flooring dealer).
After the whole flooding incident, we really wanted moisture resistant, updated, and dent & scratch resistant flooring. What style did we decide on? I'll let you know in a couple weeks…
And stay tuned for a complete room makeover of our "man cave" and some updates upstairs. I know this is generally a party blog, but we base a huge amount of our house design on entertaining others. There will be some fun updates that will make entertaining really fun! Can't wait to share.
I'm partnering with the "Mohawk Floors Me, as Told by Bloggers" program, but as always, all opinions, experiences and home projects are my own. 
To read this blog post on Heidi's blog, visit Honey, We Have a Problem.
http://partiesforpennies.com/honey-problem/