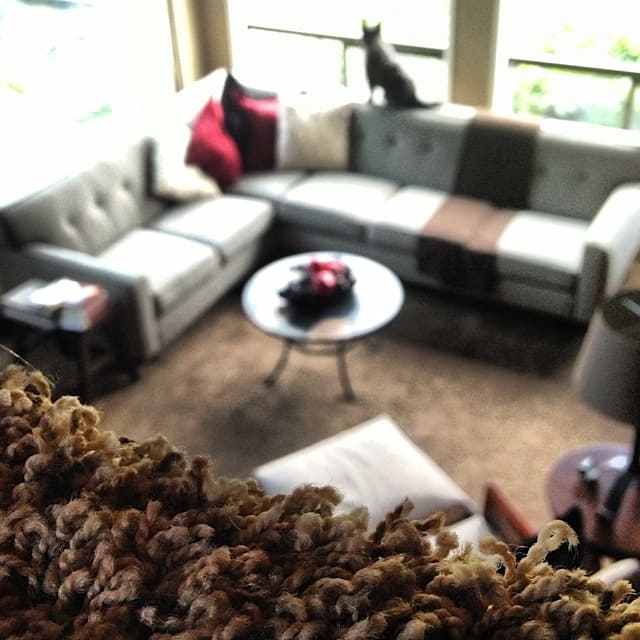 We are so happy with our new Mohawk SmartStrand carpet in our home.
Just in time for the holidays, we've now had all of the carpet installed with top-notch service from Fashion Floors in Medford.
Today's the BIG REVEAL!
BEFORE & AFTER
Here's the history, how we got involved with the Mohawk Floors Me program. And today I'll be walking you through the rooms in our home. With our chocolate and caramel hues throughout the home, with paint and wood, you can't help but feel a much warmer glow to our home with our new carpet!
Before.
And after, with Mohawk's SmartStrand Unrivaled Elegance (504 Rock Wall).
It's the most used room (besides the kitchen) in the house. NO TV, but we gather here, sometimes we even eat in this area, music … guests … etc.
Before.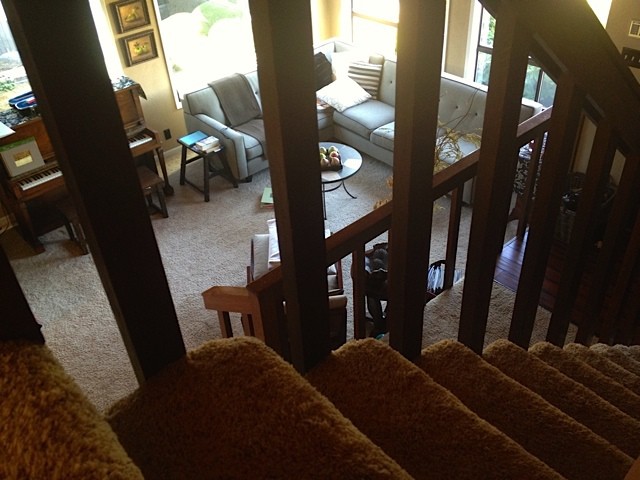 And after.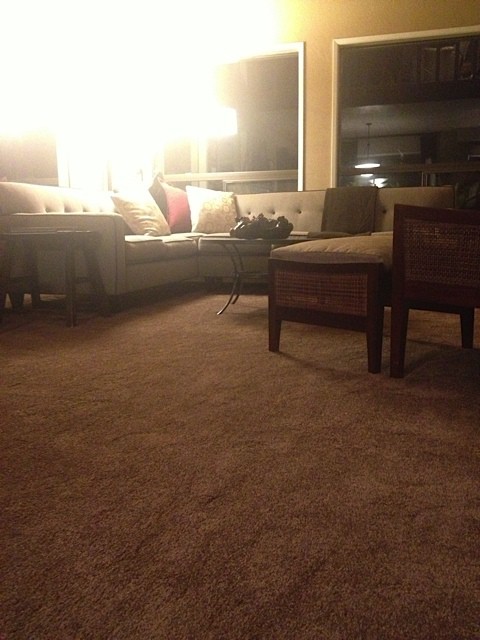 We love the darker contrasting color of carpet with our lighter furniture.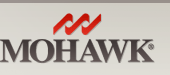 Our carpet problems began about 2 years after we moved into our home. We'd be in a different place today if we had purchased SmartStrand back in 2005, because of the way you can clean up stains and pet urine.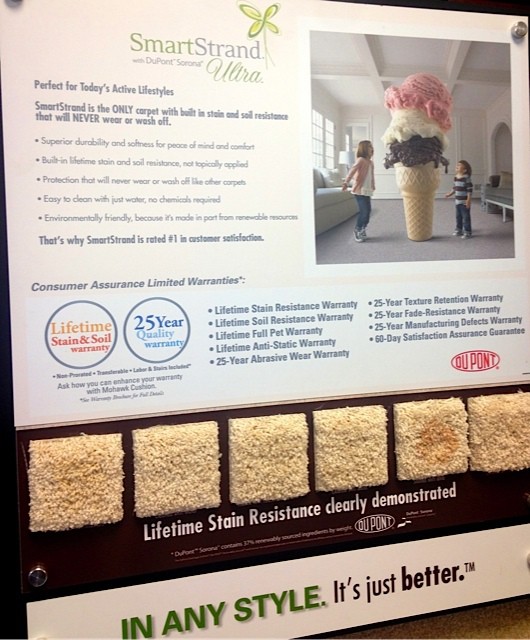 When my husband and I traveled to Ireland and England, a friend of ours came and brought her (cute) doggie here, while she cared for our home. But the problem started there … ever since she was here with her little dog in our house for 2 weeks, Haggis started doing his thing (wetting!) If someone came into our home who had a dog (like all of our kids' friends), Haggis would mark his territory.
Yes, this cute little feller. (With NEW carpet!)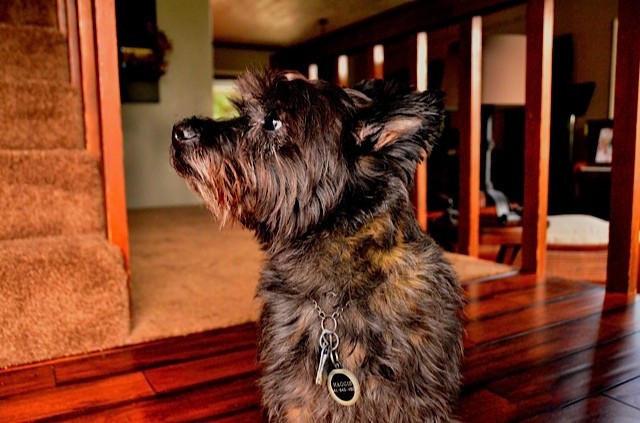 Old stairway.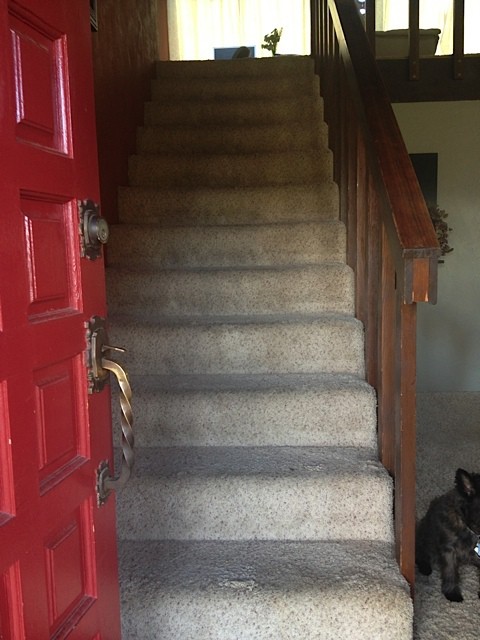 And new.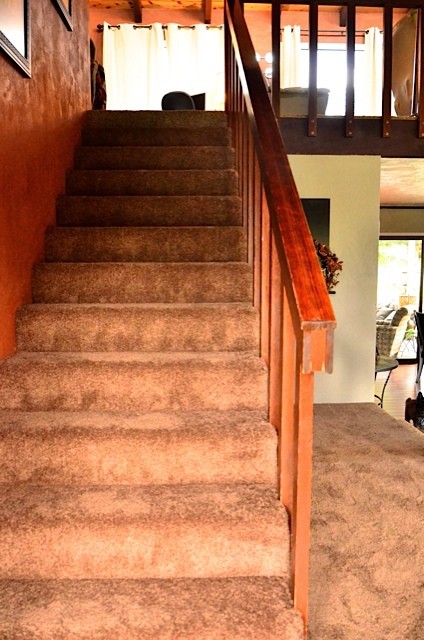 Abby had a cat who puked all the time. We hear this is common with cats, and we even changed her cat food many times. It's been a long time now since she's puked, but she left her mark in many places (Oh, what we do for our pets!)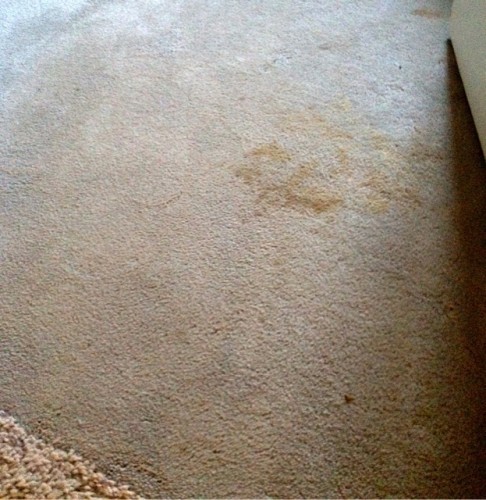 We've had lots of dinner parties, lots of kids over (our kids were 13, 11, and 9 when we moved in). One of Abby's friends spilled a berry smoothie up in the family room, and that's just one example of the many incidents our old carpet had endured.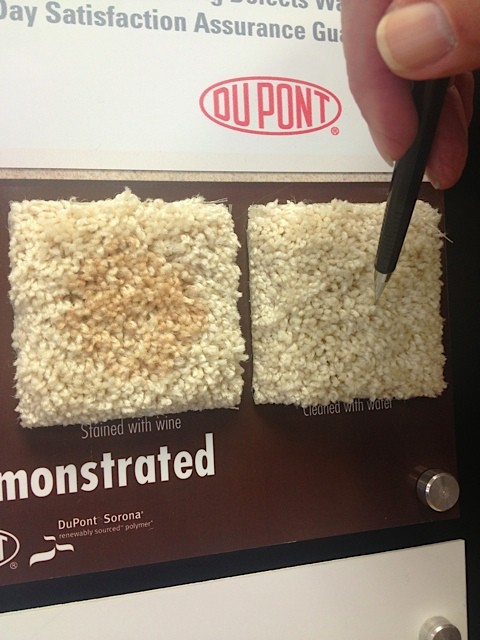 Our old carpet's issues:
1. We didn't buy expensive carpet.
2. The color was too "light" throughout the house.
3. We didn't have SmartStrand, with which you can clean stains with water (and it won't seep through to the padding).
4. We let other pets in our house.
5. We couldn't find a cat food that our kitty wouldn't puke up!
6. Our bedroom was a high traffic area.
7. The entry and living room is where the kids came in after soccer and took off their muddy cleats.
The list goes on and on.
ABBY'S ROOM
Abby's room's stains are now gone!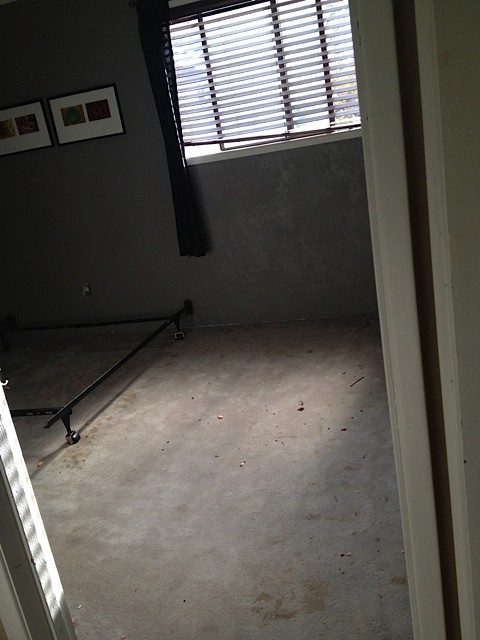 With new plush low-pile pin-dot pattern carpet (Natural Setting – 523 Subtle Skies) that goes well with her color scheme (and photography on walls).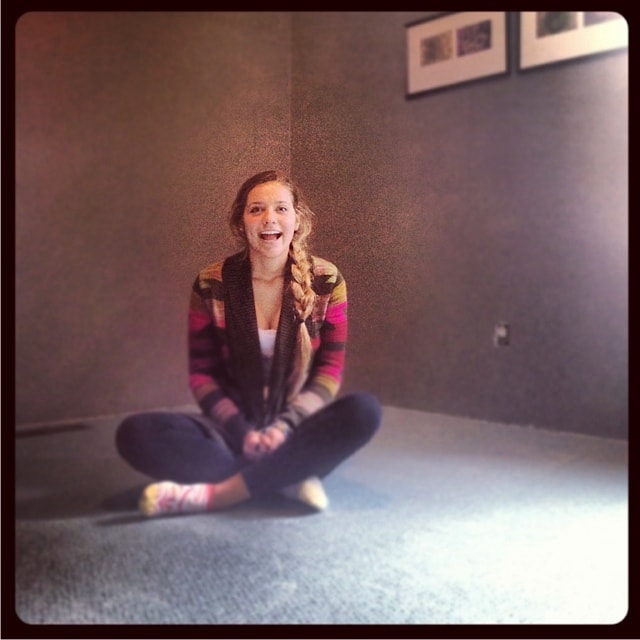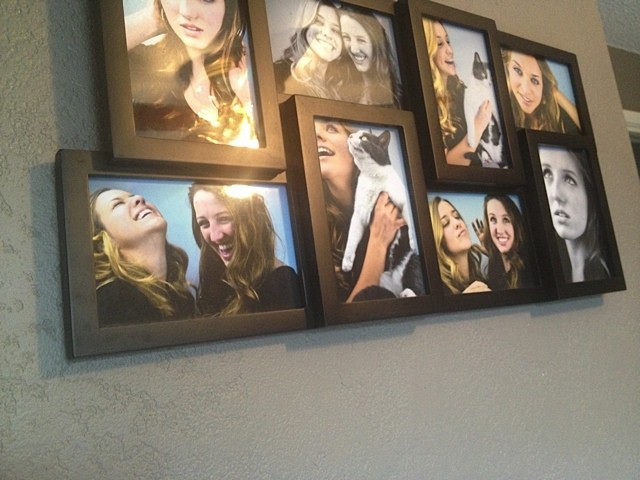 Now bright and fresh! (with kitty, Hobbes)
THE DOWNSTAIRS LIVING SPACE
We're so happy with the results of this past week's work.
We stripped everything out, and then put the furniture back in. Awww, I love the simple look. No clutter!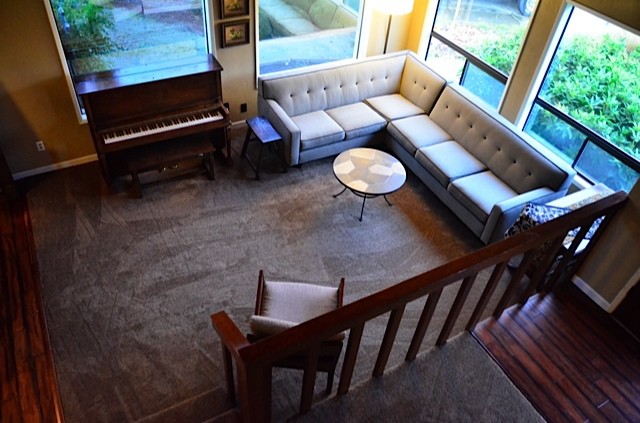 I put a few pieces back in to transition us from fall/Thanksgiving to the Christmas season, but this next week we'll be putting our tree up.
THE MASTER BEDROOM
Our master bedroom has newly installed Lavish Living (Color 513 Bocote) plush low-pile carpet (don't you love the pattern?) It's soft and sturdy, but encompasses your feet as you walk on it.
A huge improvement to our bedroom and walk in closet.
THE UPSTAIRS LIVING SPACE
Upstairs we are loving the look … and feel. This is where we hang out and watch TV together. Our new carpet: Mohawk's Refresh Effect – 507 Taupe (short twisted friese with a fleck pattern).
This last Saturday night we had guests over for dinner. We ate upstairs with our friends and watched the Ducks (U of O) game (they lost to Standford! boo!). BTW, we plan to reface the "original 1978″ stone fireplace one day with tile. Stay tuned for another DIY project!
But when it was dessert time, we gathered here.
Nice and cozy. Everyone had taken their shoes off to feel the plushness.
The dark color is such a nice contrast to our lighter furniture and autumn-colored walls.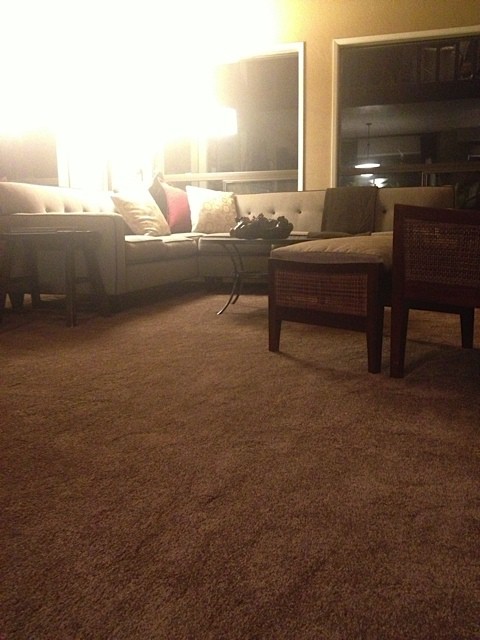 Since I'm a foodie, I like to think of our walls in our house as chocolate and caramel – melted chocolate (new rug), latte-colored walls with caramel toffee walls heading up the stairway to the family room. Nice and warm!
It's been such a pleasure to work with the folks at Mohawk, and I'm so glad they chose me for their Mohawk Floors Me blogging program.
We'll reap the blessings for years to come.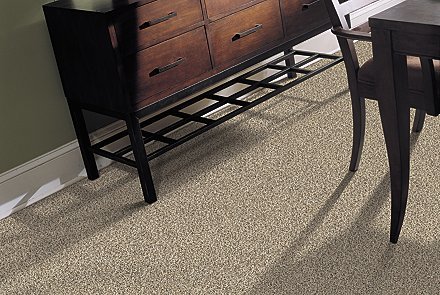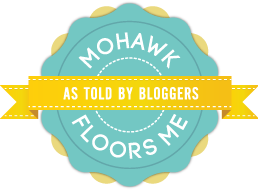 I'm partnering with the "Mohawk Floors Me, as Told by Bloggers" program, and will be receiving all of our padding, carpet, and labor as a part of the project, but as always, all opinions and experiences are my own.
Visit Sandy's Blog "Reluctant Entertainer"